Nature-based climate solutions such as reforestation aim to cut CO2 levels in the atmosphere by storing carbon in natural systems.
They are often seen as interchangeable with other climate actions, but they offer only temporary carbon storage, as human activities and natural disturbances can re-release the carbon.
Misunderstanding this could lead to more emissions and long-term warming.
However, these systems could play an important role in meeting climate and sustainability goals if used alongside other carbon-reduction plans.
A growing number of governments and companies are adopting net-zero greenhouse gas emissions targets. These targets often evoke nature as a way to store or remove carbon from the atmosphere to counter the climate effect of other emissions.
Forests, peat bogs, wetlands and other ecosystems remove carbon from the atmosphere via photosynthesis and store it in leaves, trunks and roots, and in the soil. But carbon storage in nature is likely temporary because it can be lost again due to either human activities or natural disturbances.
In contrast, the climate effect of carbon dioxide emissions from burning fossil fuels is effectively permanent. If these efforts to increase natural carbon stocks are short-lived, is there any climate benefit?
Our new research suggests that temporary nature-based carbon storage can help achieve our climate goals. However, the most tangible effect — a decrease in peak warming — would only occur if we also eliminate fossil fuel emissions.
What's the World Economic Forum doing about the transition to clean energy?
Moving to clean energy is key to combating climate change, yet in the past five years, the energy transition has stagnated.
Energy consumption and production contribute to two-thirds of global emissions, and 81% of the global energy system is still based on fossil fuels, the same percentage as 30 years ago. Plus, improvements in the energy intensity of the global economy (the amount of energy used per unit of economic activity) are slowing. In 2018 energy intensity improved by 1.2%, the slowest rate since 2010.
Effective policies, private-sector action and public-private cooperation are needed to create a more inclusive, sustainable, affordable and secure global energy system.
Benchmarking progress is essential to a successful transition. The World Economic Forum's Energy Transition Index, which ranks 115 economies on how well they balance energy security and access with environmental sustainability and affordability, shows that the biggest challenge facing energy transition is the lack of readiness among the world's largest emitters, including US, China, India and Russia. The 10 countries that score the highest in terms of readiness account for only 2.6% of global annual emissions.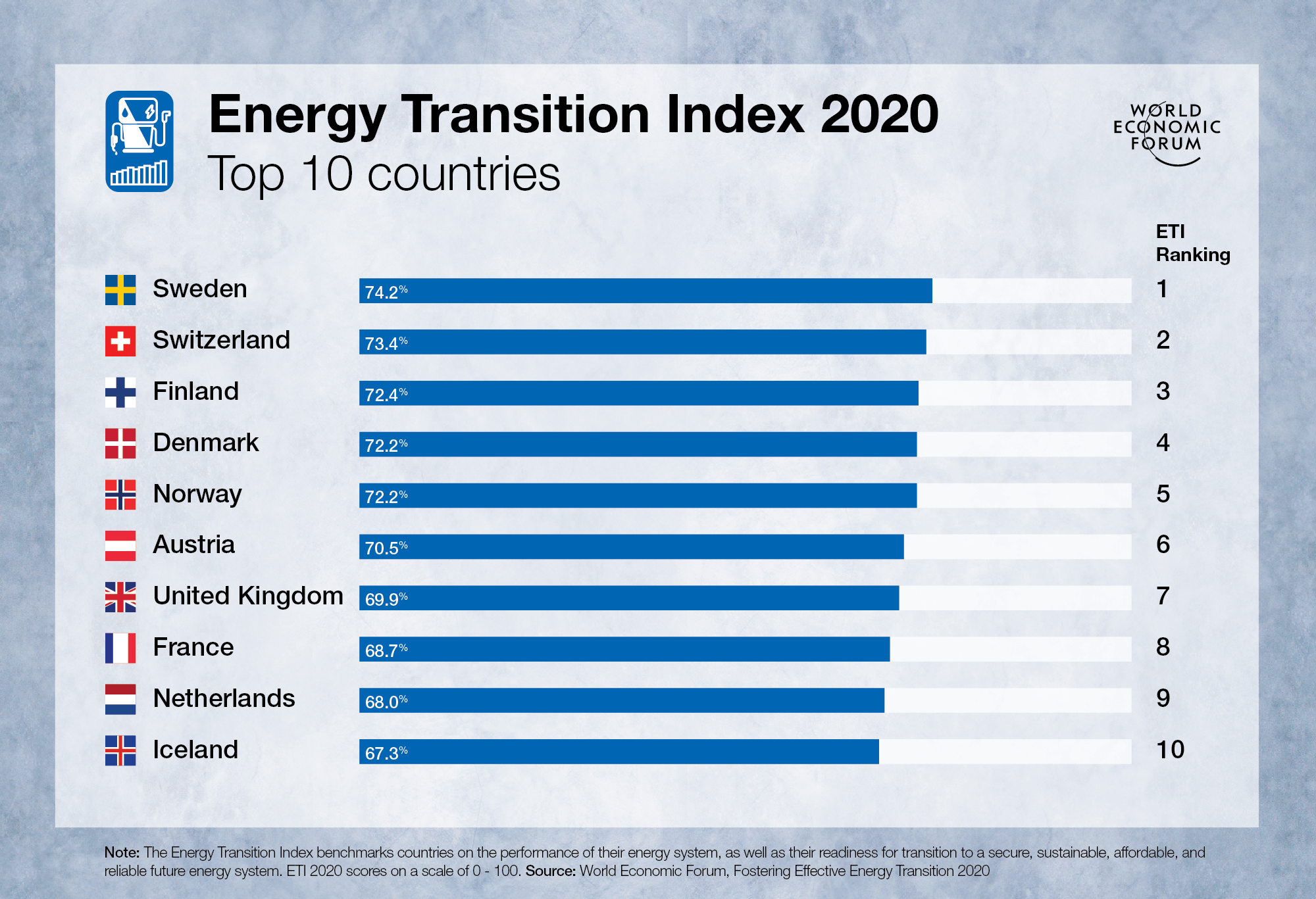 Additionally, the Mission Possible Platform (MPP) is working to assemble public and private partners to further the industry transition to set heavy industry and mobility sectors on the pathway towards net-zero emissions. MPP is an initiative created by the World Economic Forum and the Energy Transitions Commission.
Is your organisation interested in working with the World Economic Forum? Find out more here.
Nature-based climate solutions
Nature-based climate solutions are actions that seek to reduce the amount of carbon in the atmosphere by increasing carbon storage in natural systems. Examples include reforestation, nature conservation and improved agricultural practices. They can contribute to climate mitigation by preventing emissions from human land-use activities, or by maintaining and enhancing natural processes that remove carbon from the atmosphere.
If nature-based carbon storage is temporary, then its climate benefit would also be short-lived. We need to think about nature-based climate solutions in relation to other climate mitigation efforts to understand their true benefits.
What if nature-based carbon storage is temporary?
Carbon dioxide emissions from fossil fuels have climate effects that persist for centuries. In contrast, nature-based carbon removal will only have a climate effect for as long as the carbon remains stored.
In our study, we set out to explore what temporary removal would mean for future climate. We used a climate model to simulate the climate response to temporary removal alongside two different future emissions scenarios.
If emissions continue to increase until 2040, followed by gradual decline, global temperatures would rise throughout the century. In this scenario, nature-based carbon removal would only delay the occurrence of a particular warming level. In our highest removal scenario, sequestering a quarter of current annual emissions every year until 2050 only delays the time we reach 1.5 C by a year, and 2 C by eight years.
However, if future emissions are decreased rapidly to net-zero by mid-century and then remain net-negative, global temperatures would peak around 1.6 C and then decline during the second half of the century. Here, temporary nature-based carbon removal would decrease the temperature peak by as much as a tenth of a degree.
This might seem small, but it is an important and tangible climate benefit that will only occur if the world also succeeds in eliminating fossil fuel carbon dioxide emissions over the coming decades.
How should we think about nature-based climate solutions?
Both of these framings are problematic. If nature-based carbon storage is temporary, then its climate effect is not equivalent to avoiding fossil fuel carbon dioxide emission. This means that treating nature-based carbon storage as an alternative to other emissions reductions will, at best, delay crossing temperature thresholds. At worst, this could lead to more emissions and long-term warming.
On the other hand, if we take action to increase natural carbon storage in addition to ambitious emissions reductions, it could contribute to limiting peak warming. Even temporary nature-based carbon storage could have an important climate benefit.
The case for better nature conservation and stewardship
Our results reveal some of the risks of relying on nature-based climate solutions at the expense of other climate mitigation efforts. However, nature conservation and better stewardship of natural areas can also lead to other positive environmental outcomes. These environmental co-benefits, such as increased biodiversity and improved water and air quality, are also vital to climate resilience.
If done in partnership with Indigenous and other local communities, nature-based solutions could also have positive social co-benefits such as supporting livelihoods and cultural values. Taking a holistic view of nature-based climate solutions would help to realize these multiple benefits.
It is critical that nature-based climate solutions are not presented as an alternative to other climate mitigation options. As a complementary action however, they could play an important role in meeting both climate and other sustainability goals.